Saturday, December 4, 2021 at 7 PM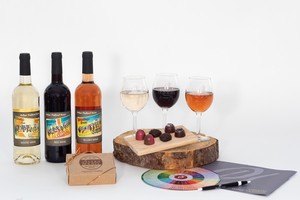 PURCHASE VIRTUAL WINE TASTING KIT & VIRTUAL TICKET
One hour guided wine tasting with Certified Sommelier & Wine Educator Laurin Dorman via Zoom. Virtual Guests can log on at 6:50 PM, the Virtual Experience will begin live at 7 PM.  Virtual Guests join in the fun of the Winery Experience from the comfort of home.
Enjoy a selection of three award-winning wines expertly paired with hand-crafted chocolates from a local chocolatier.  Wines included are 750ml each, (1) What Exit Red Blend, (1) What Exit White Blend, and (1) What Exit Blush Wines.
Wine Tasting Kits can be picked up at the Winery, our Bridgewater Mall location, our winery outlet at DeLorenzo's in Hamilton or shipped to your door.  Please order by November 23rd for shipping, a signature and valid ID is required for age verification at time of delivery.
The Western Pennsylvania Bleeding Disorders Foundation serves families with bleeding disorders in 26 counties of Western Pennsylvania. Membership is free for people with bleeding disorders. We provide patient assistance to our members with bleeding disorders as well as hold a variety of educational events that cover a wide range of topics. Because bleeding disorders impact nearly every area of our members lives, we strive to provide relevant and timely information about everything from raising affected children to dealing with financial stress to joint health and treatment concerns and much more.
Western PA Bleeding Disorders Foundation (wpcnhf.org)
https://events.handbid.com/auctions/9th-annual-take-a-bough.
Invite your friends and family for a get together, and have fun participating in our special Wine Tasting Experience while supporting WPBDF.
For additional information and questions, please contact WPBDF at jessica@wpcnhf.org