Wednesday, December 1, 2021 at 7 PM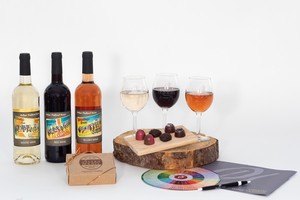 PURCHASE VIRTUAL WINE TASTING KIT & VIRTUAL TICKET
One hour guided wine tasting with Certified Sommelier & Wine Educator Laurin Dorman via Zoom. Virtual Guests can log on at 6:50 PM, the Virtual Experience will begin live at 7 PM.  Virtual Guests join in the fun of the Winery Experience from the comfort of home.
Enjoy a selection of three award-winning wines expertly paired with hand-crafted chocolates from a local chocolatier.  Wines included are 750ml each, (1) What Exit Red Blend, (1) What Exit White Blend, and (1) What Exit Blush Wines.
Wine Tasting Kits can be picked up at the Winery, our Bridgewater Mall location, our winery outlet at DeLorenzo's in Hamilton or shipped to your door.  Please order by November 23rd for shipping, a signature and valid ID is required for age verification at time of delivery.
Sweet Reads is a 501(c)(3) non profit dedicated to providing children with access to books and helping to encourage an early love of reading. We work with various schools and community organizations to address their literacy needs and curate libraries or book bundles for children to grow their personal collections. Additionally, we facilitate teen community engagement and philanthropy by having them serve as volunteers and help them establish Sweet Reads high school clubs. Sweet Reads primarily works in communities in NY and NJ but has international libraries in Ghana, Haiti, and Nigeria! Sweet Reads also celebrates diverse authors and stories through conducting interviews, story time and featuring their books.
www.sweetreads.org.
Invite your friends and family for a get together, and have fun participating in our special Wine Tasting Experience while supporting Sweet Reads.
For additional information and questions, please contact Sweet Reads at tamikohubbard@sweetreads.org.